paging Mr. Sam Hane, Mr. Sam Hane, your party is bitchin'
GOD it seems I never have time to write anymore. Not just in here, which I should be doing anyway, but my pleasure writing has almost completely stopped. Its fairly depressing. I was reading through my old journal from last year, most specifically this time last year, and I was really writing a LOT. Of course I was only first quarter...ha ha ha.
Anyway, Halloween weekend was stunning. I started Friday night at around 11 with Kasumi, Micah and Arthur, and we all went to this one apartment, where, unbeknownst to Kasumi and I, there were about a dozen hardcore nerds milling about in costume. (A few of whom were LARPers, and so they were somewhat used to the costume thing.) Let's just say, after a while, the drinking picked up, a whip with leather thongs was brought out, and, well. I don't shun the whole S & M thing, in fact I support it, but usually I don't want to watch other do it, and if they're going to make a party out of it, they'd better make damn sure that everyone present knows exactly what is going to happen. So we left.
Then there was this big house party in East Atlanta, nothing special, about half a dozen Strawberry Shortcakes and Rainbow Brites, and even a guy dressed as a keg. We made an early night of it, my heels were killing me.
But Saturday. Oh, Saturday. Saturday dumped everything I ever thought I knew about parties on its rosy red ass. Kasumi actually lives in the Sampson Street lofts, and when I first got there I didn't think the party would be much. It was only nine, though, and I still had much more driving to do, and it would be hours still before I could properly party.
I dropped Arthur off and headed to Blakes. THAT was an awesome party. I wish I could have stayed longer. Above all, though, I really wish I could have seen whoever it was fall in that weird little lap pool they have out back there. What a bizarre little body of water.
Then, around 12, back to Sampson street. And DAMN. There were costumed nitwits everywhere. It was fantastic! By the time I finally got in the door, I could hardly believe it. The place was so huge, and there were so many people, it was incredible. Absolutely alarming.
SO
many creative costumes! A box of crayons, elaborate pirates, soldiers, and even this guy, who had, BY FAR the best costume ever:
Say hello to Mr. Spirit Warrior Katchinka doll guy. I couldn't believe it. That was a MOP on his head!!! What creativity! What passion! What a costume!
This one was pretty good too, made moreso with the PBR: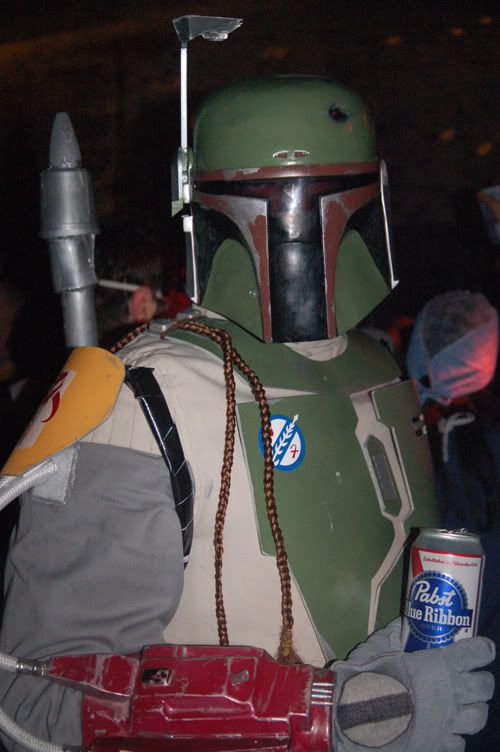 This is my friend Max, whom I told the moment I met him that he resembled Gene Wilder. I think he made my night by being Willy Wonka.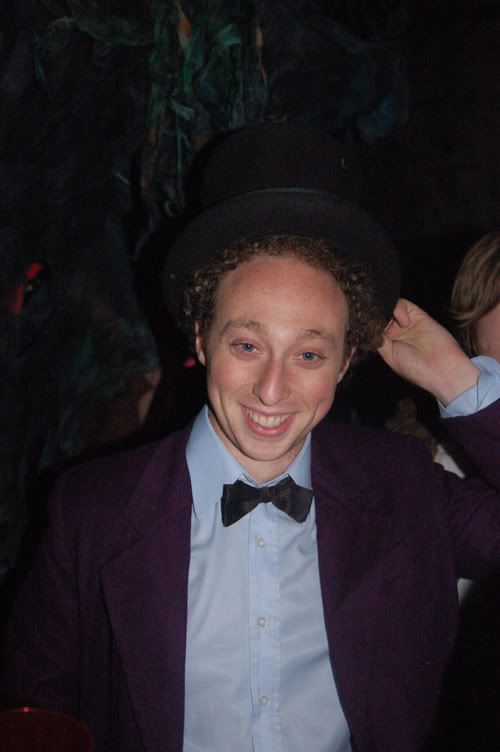 Kasumi in her excellent Bear costume:
me in my dumb goth getup: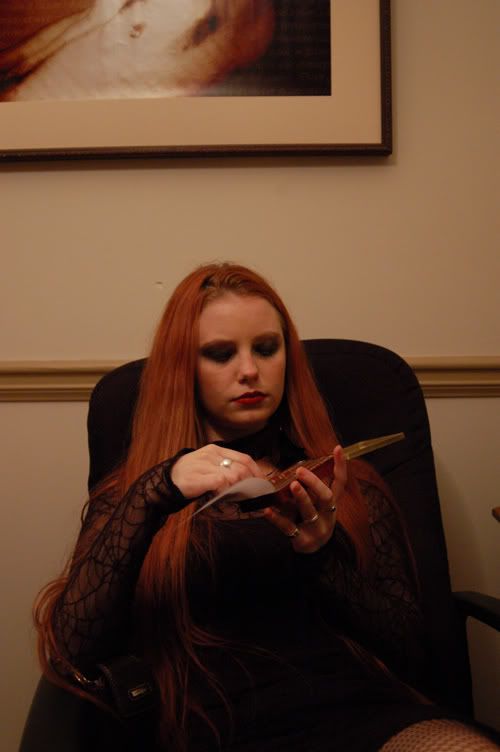 Arthur with his melty face: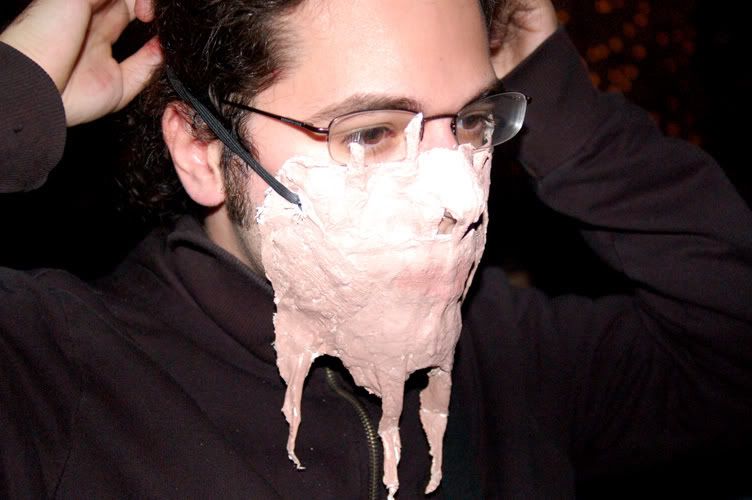 Micah and someone else's hat: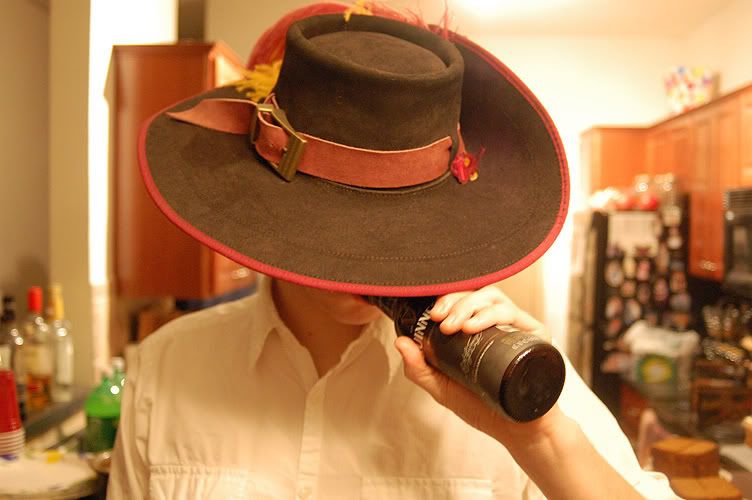 And lastly, the whole shebang thrown together: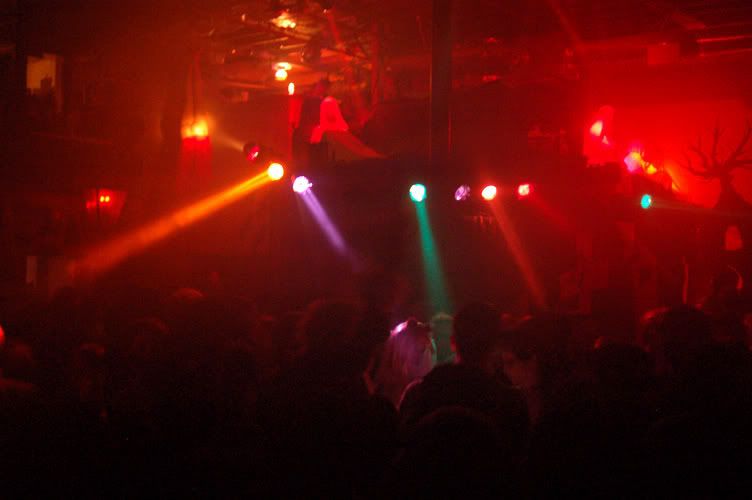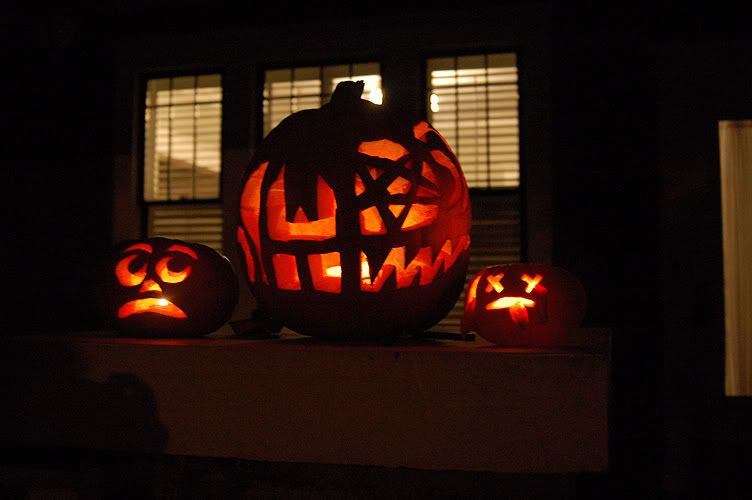 Happy Halloween everyone. And also, take a look at this photographer's website. I think it's pretty bad. I mean I can tell the photographer loves her work, but honestly! Plus the site needs a load of work, too:
ch-ch-changes